Workshops are where attendees who desire to engage in thoughtful discussion go to learn how God uses gospel-centered mission to address the deep spiritual needs of the world around us.
Apologetics – Suffering: Learn how to engage with the contemporary questions of our culture as you discuss your Christian Faith. This year, the focus will be on a biblical understanding and response to suffering.
Cultural Engagement: Learn how you can utilize your gifts, time, and relationships to speak into the culture to make a difference for the Gospel.
Global Missions:  Learn what God is doing all around the world through His people, and how you can be involved in reaching people with the Gospel of Jesus.
Local Missions: Learn about what God is doing locally, strategies and principles for going on mission in your local context.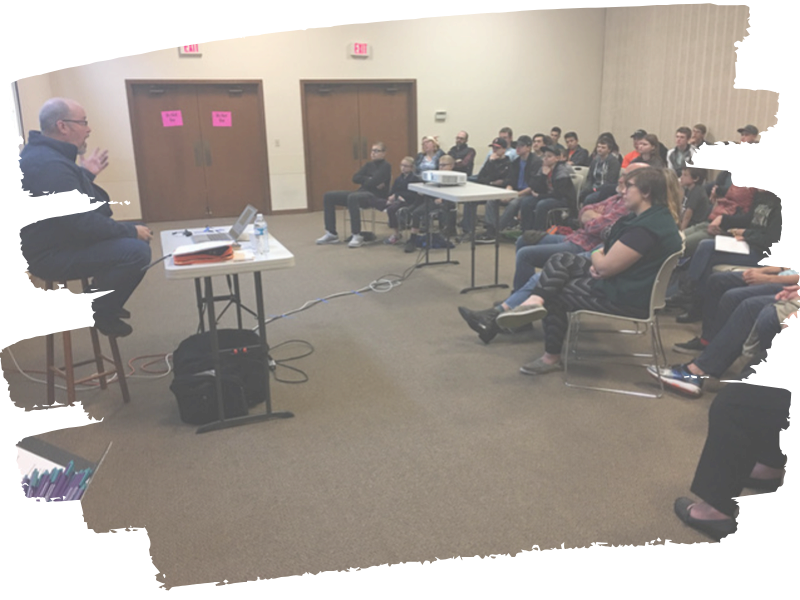 Main Speakers: Down from the stage, the main session speakers will delve deeper into their talk and engage with your questions.
Prepare to Go! – How do I prepare for cross-cultural ministry? Listen to both missionaries and mission coaches share how you can plan and engage NOW for the mission field of tomorrow.
Students On Mission: Learn practical ways how you as a student can be involved in the Mission Field around you today.
Workshop Session #1 – 10:45-11:30 AM
Apologetics – Suffering: Finding God in Pain and Loss 
The journey of pain and loss is difficult and unique to everyone. This workshop will provide practical tips on how to survive tough times while staying close to God.
Cultural Engagement: What is our responsibility in engaging with culture
Josh White
A call to Jesus' mission around engaging arts and mission to glorify God with your gifts.
Global Missions: Answers to Common Questions
Dr. Greg Burch ("Goyo") and Godfrey Nzirimu ("Jeje")
There is a biblical need to understand vulnerability from those we go to in order to serve those we are sent among. The hosts, "Jeje" and "Goyo", will share stories from around the world of their experiences with surprising agents of God's kingdom.
Local Missions: Tough Kids to Reach
Panel: Representatives from Because People Matter, CEF, and Skate Church
How do you minister about the Good News to kids and youth who have faced trauma? What are approaches that youth workers are using? Come hear some veterans in ministry share about their experiences, ministry models, and tools.
Room B-1 - Multi-Purpose Room
Main Speakers: Gospel Hope in a Sexually Complicated Culture
Drew Berryessa
What hope does the Gospel give for those who struggle with their sexuality?  Does our sexual struggles limit what God can do in or through us? What does the Gospel offer for those in the LGBTQ community? Come find out.
Prepare to Go! Preparing for Missions on a College Pathway
Panel: Representatives from Great Northern University, Multnomah University, Canby Bible College, and Ecola Bible College
Learn about requirements and degrees of study that are offered for people who want to enter missions as a vocational career. Q&A included.
Students on a Mission: Methods and Tools for Sharing the Gospel
Mark Schaufler
There are keys to every heart and tools for the challenges we face when sharing the Gospel.

Get some keys that open hearts and tools that clearly tell the story here.
Workshop Session #2 – 2:15-3:00 PM
Apologetics – Suffering : Answers to Common Questions
Dr. Brent Strawsburg
Our skeptical friends often use hard hitting talking points in an attempt to refute our faith. This workshop will provide practical answers to four common objections..
Cultural Engagement: Engaging Different Cultures this Summer
Representatives from S.L.A.M Trips, Teen Missions International, and Reign Ministries
Hear about different summer ministry opportunities and share your questions about how you can get involved!
Global Missions: Preparing for Missions
Laura and Richard Wilson, WEC and Lauren Wells, Culturebound
Whether it be short-term missions or long-term service, there is an identified need to stand in a place of vulnerability. For students, this might mean taking time to learn about the cultural settings & learning posture among those we go and serve.  Attendees of this workshop can expect a very interesting drama to unfold between "Jeje" and "Goyo."
Local Missions: Better Together
Phil Ball
How and why unity through networking and collaborating with other churches, especially those of different denominations, creates synergy in your local missions endeavors. 
Room B-1 - Multi-Purpose Room
Main Speakers: How Bible translation changes YOU!
Danny Foster
Translating the Bible into other languages forces you to think about Scripture from perspectives that you've never had to before. Experience new and powerful ways to understand familiar Biblical concepts in this workshop.
Prepare to Go! Being Missional All Year Long
Mark Schaufler
There are key opportunities when you work with youth to be missional all year long. Learn how to calendar and then prepare your students to reach out locally and globally in the years you have with them.
Students on a Mission: How to Share your Testimony
Stephen Dilworth
Paul shared his testimony numerous times in the New Testament, learn how to do what he did as you build your testimony in this class
Workshop Session #3 – 3:45-4:45 PM
Apologetics – The Hard Sayings of Jesus
Dr. Brent Strawsburg
Jesus made statements that were hard to understand and even harder to believe. Learn how to explain four of these hard sayings to your unchurched friends.
Cultural Engagement: Earning the Right to be Heard
The Gospel is GOOD NEWS but trust must be earned. Learn to connect with people before you give them the content, from strangers to your best friends we all need to earn the right to be heard.
Global Missions: Child Sex-Trafficking: Stories from the front line and how you can help end it
Scott Stoutenburg
99 billion dollars a year.11.3 million dollars an hour. Those are the numbers for the global sex trade. This session you will hear stories from the front lines. As well as learn about a group that has rescued almost 5,000 people. You will also learn how you,your youth group,or your group of friends can play a role in ending this global crisis.
Local Missions: Ministry On Your Campus
Andrew Kruse
Come and consider your unique role and ability as a student to reach your friends for Jesus, strategies you can use to share the Gospel, and how to invite your friends into a deeper relationship to consider following Jesus.
Room B-1 - Multi-Purpose Room
Main Speakers: R-E-S-P-E-C-T: Find Out What It Means To Me
Corey Greaves
Hear more of Corey's story, ask questions that you had from his talk, and hear about his ministry.
Prepare to Go! Careers in Missions
Panel: Representatives from Moody Aviation and Engage
Have you ever wondered how you could use a regular job to do mission work locally or globally? Come and hear about specific and diverse opportunities you have to put your skills, talents, and learning into action.
Students on a Mission: The Wordless Book
Rachel Newport
Want to know how a book without any words can share the greatest story ever told? The Wordless Book is a tool small enough to fit in your pocket that can be used to effectively share the Gospel with anyone- even kids!
Student Connexion strives to provide a launching point for youth into a lifetime involvement of SERVING JESUS through missions and ministry by connecting them with the mission field of TODAY! Join us on November 1-2, 2019!