Workshops are where attendees who desire to engage in thoughtful discussion go to learn how God uses gospel-centered mission to address the deep spiritual needs of the world around us.
Apologetics –Students are constantly being exposed to ideas that challenge and contradict the Gospel. A part of joining God's mission is developing a heart and mind to provide a clear, yet civil defense of the truthfulness of your faith to the people God puts in your life.
Global Missions: Learn what God is doing all around the world through His people, and how you can be involved in reaching people with the Gospel of Jesus.
Prepare to Go: Get an idea of the practical skills, personal habits, and spiritual disciplines to begin developing as you discern going on the mission field for a short or long-term period of service.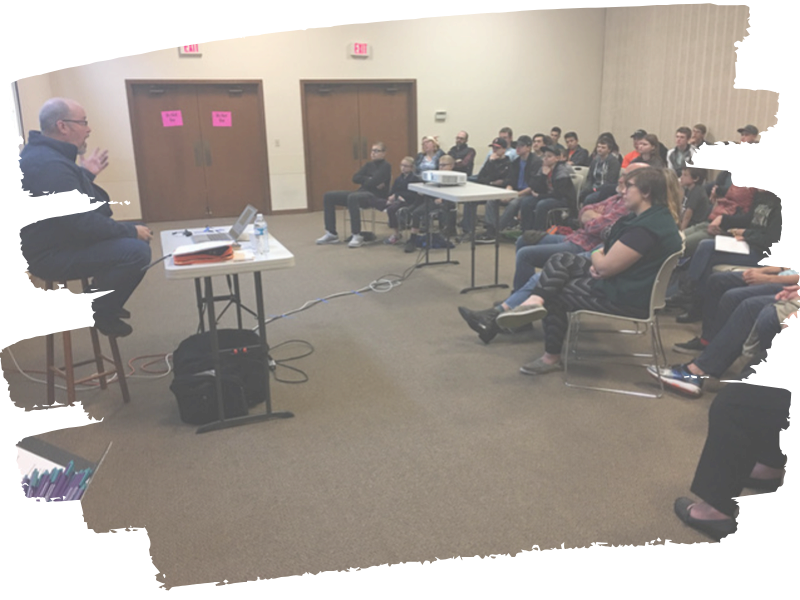 The Middle School Missionary:This workshop track is specifically designed for middle school students. Come and learn about what God is doing both locally and internationally, and how middle school students can be involved in sharing the Gospel TODAY!
Cultural Engagement: Contemporary world issues in missions.
Reaching Your Friends: You have a mission field around you everyday with your friends who don't know Jesus. Learn how to join the Holy Spirit in what he is doing by having honest conversations about faith, become a listening friend who doesn't judge, and create space for your friends to experience the work of Christ.
Workshop Session #1 – 10:45-11:30 AM
How we KNOW the Bible is TRUE
Roy Swart
The Bible is the foundation of our Christian faith. Unfortunately, many Christians can't defend why the Bible is TRUE. It will turbo-boost your confidence in your faith and your ability to defend it!
Do you want a deeper passion for God?
John Rozzelle
Join us as we look at rhythms in our life that create deeper passion for God and zeal for the things on His heart while laying the ground work for a lifetime of ministry. We will explore the spiritual practices of prayer, walking in the Holy Spirit and time in the word.
Teen Missions: It's not too early to be a student missionary!!
Mike Blair & Tim Peterson
For over fifty years Teen Missions has been sending out high school and middle school students into the mission field. Come and find out how you can be a part of the great commission, even before you graduate!
Willamette A
THE MIDDLE SCHOOL MISSIONARY
Go Somewhere!
John Jesberger
Why does the church do short-term cross-cultural trips? How should you go? What should you bring? And, most importantly, what is the goal?
Mental Health as Mission Field
Dr. Jeremiah Peck
Mental health related struggles are prominent in our society. In this workshop, you will learn how as a follower of Jesus you can come alongside those who are hurting and share with them the hope of the Gospel. Participants will learn what to say, what not to say, and how to be effective in ministering to someone who is also struggling with their mental health.
The Impact of Honest Conversations
Kirk Petersen
Research shows that your faith grows from having conversations with people who disagree or come from other faiths. Come learn how to have those honest discussions about life, faith, and meaning with people who have different viewpoints.
Workshop Session #2 – 2:15-3:00 PM
How to answer EVERY hard question
Brian Overholt
Has a hard question about the Bible or Christianity ever stopped you in your tracks? Have you felt unqualified to defend your faith? Come learn basic critical thinking and analysis skills that will equip you to answer EVERY hard question!
Prepared for Crossing Cultures
Darryl Smith
Come interact and grow in seeing God's vision for how the gospel can take root in every culture and flourish across the world. We want to help you grow in your capacity to persevere on the path of cross-cultural ministry. This track will be interactive and help you create tools to explore surface and deeper culture even before you go.
Advancing the Gospel through the Science of Language
Isaac Munnalall
From translating the Bible to helping a people group find their long-lost homeland, we will look at how we can use the science of language to bring God's love to every corner of the earth.
Willamette A
The Middle School Missionary
Am I Ready?
John Jesberger and Noah Weaver
How should I as a middle schooler be thinking about missions? Am I drawn to missions? If not, how do I live missionally?
I am From…
Amy Rozzelle and college students
Come learn from local college students as they share parts of their stories as they intersect race, culture and ethnicity with their faith.
The Transformation of Being a Listening Friend
Kirk Petersen
Christians are not known for being good listeners. Come learn how you can change and will be changed when you become a friend who listens with patience and without judgment.
Workshop Session #3 – 3:45-4:30 PM
Answering the Top 5 most Common Objections to Christianity
Adrian Toader
Many of the common attacks against our faith can be boiled down to just a few basic root objections. Come learn how to engage on these common topics and provide answers that are biblical, logical, and convincing!
Do you have the heart to reach the 2.2 billion people who have no chance of hearing about Jesus? Do you have the heart to reach the least of these and meet them with compassion? Do you think you could be a part of seeing the world changed by Jesus? Come and hear from our team about different ways how you can reach the world with the Gospel and how you can get there! We will talk about avariety of topics from a lifestyle to cultivate to prepare to go, how to raise finances to go short-term or long-term, and how to get out to the field! You will hear about specific opportunities through our Discipleship Training Schools.
What's happening in the Islamic world?
Rod Powell
For over 13 years Rod Powell has engaged in cross-cultural ministry in the Islamic world. He will share about the spiritual landscape that is shaping the stage for missions in these areas to challenge and inspire you for ministry, prayer and concern for those trapped in darkness.
Missions and God's Story
Noah Weaver
How does missions fit into the redemptive story of the whole Bible? Missions is related to everything.
Courage & Short-Term Missions: Tearing Down Walls & Building Bridges
Annaweinita Miller
This workshop is to engage with others at Student Connexcion and discuss the virtue of yáych'unakl (courage). We will have a discussion about how we can work together and show courage as you partner with Yakama teachers on a slam trip and build relationships through a short-term mission trip.
The Power of Creating Space for the Holy Spirit
Kirk Petersen
We often forget how desperate God is to reach our friends who have not met him. So the pressure is off of you. Come learn how you can join with the work the Holy Spirit is doing in your friends already and create space for them to experience his work in their lives.
Student Connexion strives to provide a launching point for youth into a lifetime involvement of SERVING JESUS through missions and ministry by connecting them with the mission field of TODAY! Join us on November 4-5, 2022.